Royale Hogs have gone from been the worst to been the best hog card in the bacon community in my opinion. If you're going to be using them in a deck you will need a card like zappies to help bait out splash damage like a fireball from your opponent. With this deck it is all about waiting for the right opportunity to punish your opponent. If you know your opponent has swarm units to defend against the hogs then you can start to play prediction spells later in the game. Even if you don't need the inferno dragon because you're not against a beat down deck then I still recommend cycling this card. Try to always get tower chip damage with your spells throughout the match to avoid those annoying loses where your loose by a few HP. In my video I discuss other strong Royale hog decks so depending on your play style you might want to choose one of my other decks. The bats and the skeletons are you main cycle cards but they are also important to use on defence because they can help you make positive elixir trades or they can be used to distract units that only target one unit at a time like pekka, prince, inferno dragon or musketeer.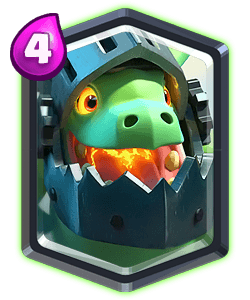 The inferno dragon is still a strong card to use and will always require an answer from your opponent especially if you use this card as a cycle card to keep apply pressure and forcing a counter from your opponents hand.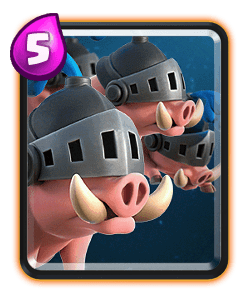 Royale hogs are your main win condition here! Although this guide covers one deck I recommend watching my whole video to see different ways to play this card and how to get them past your opponents defence. They are great cards to use kite units similar to the hog however you can split these are the river during double elixir to apply dual lane pressure. It is important that you're not afraid to play these especially in double elixir. You have good defensive cards to help deal with their counter push which will then allow you to counter push again with the hogs.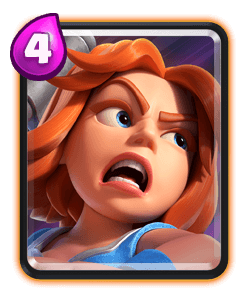 The Valkyrie will be your main defensive unit and she can also act as a good mini tank for the Royale hogs if she has enough health left to counter push. She can distract the opponents defences allowing your hogs to reach their tower and you can also use bats to help take down their defences.
Early game it's important to find out what deck your opponent is playing and then you can keep track of their counters to your Royale hogs. The zappies work well as a bait card for fireball, Valkyrie or mega knight which will all counter your hogs. You don't don't to split the hogs behind your towers especially early game. If your opponent starts the match with an elixir collector or a tank in the back you play play the hogs at the river in the opposite lane to punish your opponent.
Later game this deck becomes a lot more fun to play because you'll be able to cycle back to the Royale hogs even quicker! Try to defend well and build up a good counter push, then play your Royale hogs to apply pressure to the opponent, you can split them at the river especially if you have troops in both lanes. Goodluck while using any of these decks I hope your have as much success using them as I do!