Last season Royal finished number 2 in the entire world using this extremely strong golem deck. This variation of the golem deck is fairly unusual because it has the fire spirits which are becoming increasingly popular on ladder. They offer immense value against royal hogs, minion hordes and even three musketeers. Royal uses the mentality that the opponent has more elixir and you do and he believes that this stops you over committing early game which is a huge mistake a lot of players make with golem decks. This triple spell deck means you have an answer to a lot of bait variations that you might play against, it also means you can support you Golem with spells or also use them defensively. Mainly wth golem decks you should defend and then counter push especially because there is no pump inside this deck.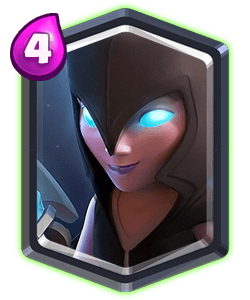 Night witch is the best support unit for the golem in the whole game. She should be played before the golem to allow her to spawn more bats and also reduce the risk of the opponent rushing the other lane. Her HP is fairly fragile so if they have lightening or rocket don't play her to close to your towers.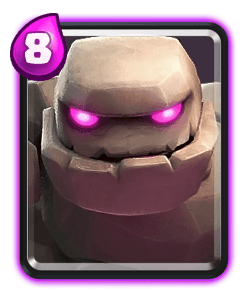 The golem is your main win condition and you shouldn't be worried if you don't get an opportunity to play this card until double elixir. Remember it hasn't death damage which is capable of killling skeletons and bats. Unless the opponent opponent plays a heavy tank first you shouldn't play this card behind your towers because they will simply rush the opposite lane and you'll cycle struggle to defend.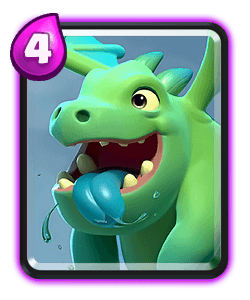 Baby dragon is another great support card and can help deal with swarm units that can easily take down your opponent. This card also synergies very well with the Nando.
Early game you should try and find out what deck your opponent is playing. Try to activate your king tower as early as possible to help you defend throughout the rest of the match. Tornado can also be used defensively against hog rider or you can also pull three musketeers into one lane and then use the poison. Both of these trades will give you a positive elixir trade. I don't really like to play the golem early game unless you use it same lane as they placed their tank or you use it to tank damage from a pekka. Try to make positive elixir trades throughout which you can then cash in on during double elixir and try to end the game in one huge push.
Later game is the time you can start to be more aggressive with the golem and build up mor support units behind. If you have an activated king tower then you can spend less elixir defending and focus more on your offensive push. Try to get as much spell value as possible, making you you use them to protect the golem and also chipping away at their tower. The long the golem is alive the more he tanks damage and allows you to build up more support troops. Goodluck running this deck!