Hazard from the CRL team NRG has been playing this deck on ladder and has even made it into the top 3 in the world. Giant skeleton works well with the graveyard because he is a tanky unit that can stop your opponents troops due to his death damage. He is also great for tanking tower damage for your graveyard. With all graveyard archetypes you need to wait for the right opportunity to go aggressive, so you will play a lot of defensive so the ice wizard tornado combo can be vital in defending a push. This deck technically has four spells so you will sometimes need to cycle the barbarian barrel. Electro wizard is another great defensive unit that has some good counter oush potentially, you will rely on him to reset charging units like battle ram or princes and he also works great against inferno units and sparky. When you see a graveyard deck posion is almost the second spell in the deck however you should know when to play this card to get maximum value. You should only play the posion if your opponent offer you good spell value by playing a defensive unit that has low-medium HP to defend your graveyard.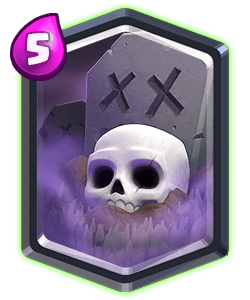 The graveyard is your win condition in this deck and should be used to apply pressure to your opponent if they're running a beat down deck or on a counter push. If they have an elixir collector you can play this card in the same lane or even place the edge graveyard over the the elixir collector if they've placed it in the corner of the arena.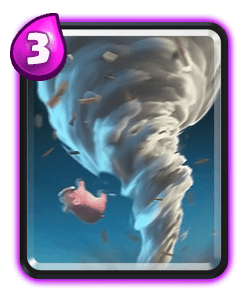 Tornado synergies well in this deck it can be paired with ice wizard, posion or giant skeleton depending on the circumstances. If they have three musketeers you can pull them into the same lane and then posion them while also getting tower chip damage. With the giant skeleton you can pull their units into the radius of the giant skeleton bomb.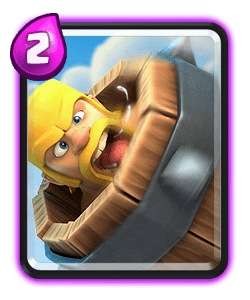 Barbarian barrel should be used a cycle card if you need too but he can also be used to tank for the graveyard. He is also good against ground based swarm units.
In single elixir you should play passively until you know what your opponent is playing, try to use the Tornado to activate your king tower especially against hogs, bridge spam and bait decks. Don't play to aggressive but if you can chip away at their tower or you know you have a large elixir lead you can apply pressure in the opposite lane to the one your opponent is pushing. Giant skeleton should mainly be played behind your towers to allow you to build up more units behind him.
Double elixir is the most likely the time you'll take their tower. This deck is stronger in double elixir, if the opponent has a lot of counters to the graveyard you should focus on defence and then apply pressure with a huge counter push. Go check out my video to see how Hazard plays this deck and to learn some great hints and tips for using this deck!