Today we have Jake A.k.a Tag on the channel sharing a deck that is perfect to use to beat those annoyingly over levelled players on mid ladder. This deck cycles extremely quickly, it'll definitely take some time to master fully. Your aim with this deck is to acquire chip damage throughout the match, your main damage will come from your miner in single elixir then the miner and spells in double elixir. You can also use the ice spirit, of your ice spirit is under levelled have the miner tank tower damage. Your inferno tower will be your main defence against beat down archetypes and it can also be used to kite bridge spam units like hog or ram rider. Knight will mainly be used on defence to help DPS down the opponents units while tanking damage for your towers, you can support him with the one elixir units which will also allow you to cycle back to your miner to play offensively. With these fast cycle decks you should try to make positive elixir trades and try to defend on your side of the arena.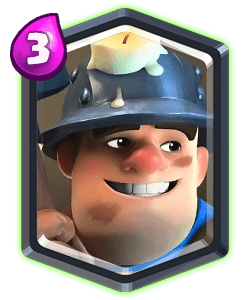 Miner is your main win condition, ensure you switch up your placement throughout the match to make it harder for your opponent to predict where he's going to appear. If your knight is out of cycle you might have to play him defensively in some circumstances. He synergies very well with the poison on offence howler you need to make sure your getting good value for your elixir when pairing those cards together because it's a seven elixir investment.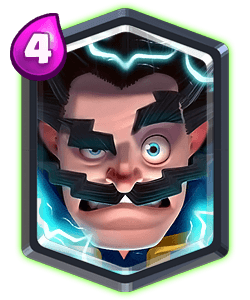 Electro wizard will be a solid defensive unit in this deck. If he's under levelled he should be your main focus on upgrading. He can be used to reset units like inferno dragon, sparky, and also charging units such as prince or battle ram. Try to keep him alive by using your knight or skeletons as a tank.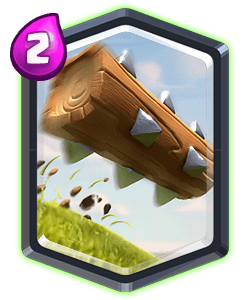 Log will be your main defence against bait decks, because if the speed of this deck you'll easily be able to keep it in cycle for the opponents barrel. You can also cycle this card if you don't need it for defence to acquire some small chip damage. It's knock back effect can be used to help protect your inferno tower from units like prince, ram rider or battle ram.
For opening plays you can play a miner in the safe spot or cycle ice spirit at the bridge. Try not to pair your miner and poison combo offensively unless your opponent gives you good value during single elixir.
In double elixir you can start to synergies your spells to support the miner if you know what units your opponent has in cycle. You'll easily be able to defend almost anything and cycle back to the counters you need while chipping away with the miner. Learn the interactions of what damage your spells do when paired together on the opponents tower, this can be the difference between winning or losing by one hp!