Today we're joined by Pasha who is a Russian pro players who have a 89% win rate using this deck! This miner loon cycle deck is incredibly strong, the bomb tower is a great defensive unit that works well against the OP battle healer due to its range. Your main source of tower damage will come from the miner and the balloon, you can use these together as a one two punch especially if you can have the miner tanking tower damage. For air defence you only really have the musketeer so you might need to cycle multiple musketeers against heavy air decks while relying on the bomb tower to kite units like the balloon or hound. Arrows will also work extremely well against minions or lava pups. If you're against bait, which is currently one off the most popular archetypes, you will have to rely on your spells and Valkyrie for defence, aim to defend and counter push. If they have to rocket your balloon then pair it with the miner to keep up that pressure and also acquire some chip damage. From watching Pasha's gameplays you can see how aggressively he will use this deck to try and control the tempo of the match. He will also track their key counters to the balloon and will punish the opponent when their counters are out of cycle.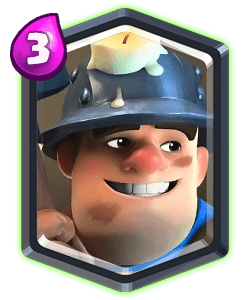 Miner is an extremely versatile card, because he can be played anywhere in the arena you can use him to snipe ranged units like princess, magic archer or dart goblin. You should also use him against elixir collectors in single elixir if the opponent is using it.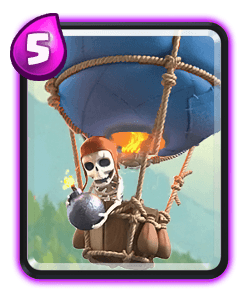 Balloon is the ultimate unit to use when you need to apply pressure and force a response from your opponent. It's death damage is similar to a fireball and it'll also damage surrounding units. Use this card with the miner and have arrows ready to help keep this card alive for as long as possible.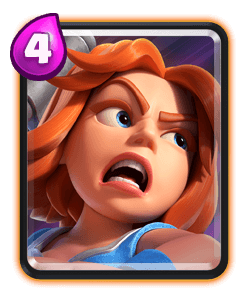 Valkyrie is one of the most important defensive units in this deck because she can help you defend against graveyard, bait, elixir golem, three musketeers and even the battle healer. You can't also use her on the counter push to tank for your balloon.
Early game you can start out the match with a miner, cycling skeletons or even playing a balloon at the bridge to see how the opponent responds. Because this is a fast cycle deck you should've aiming to go into double elixir with a tower damage advantage in most matchups. Learn what deck your opponent is playing and try to bait out their key counters while keeping your main defensive units in cycle.
Double elixir you'll come easily be able to out cycle their units and keep up that pressure and eventually take a tower or two. Remember to focus on defensive, the bomb tower, Valkyrie and musketeer will be able to assist your princess towers in most situations. However the best defence is definitely a good offence when using this deck!