Zappies finally have a place back in the meta, they're been used to win multiple grand challenges and this is my favourite deck right now! Zappies are a great u it to split if you don't have any other play to make, they're great on defence and they're also a good spell bait card. As you can see fro mine video today's pro will be very passive with the royal hogs and will learn what deck the opponent is playing before he uses them at the bridge. Use your magic archer and snowball to support your offensive pushes and always aim to make positive elixir trades on defence. Against graveyard you will need to stop their tank at the bridge then you can use bats or goblins on defence, magic archer can also be placed behind your king tower to avoid the poison spell.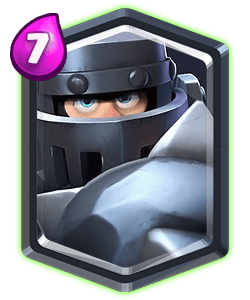 Mega knight is one of only two cards in the game with a unique enter the arena ability. In single elixir you will mostly use him defensively and then counter push behind him, however in double elixir you can use him more aggressively. Against air decks I recommend playing him more offensively if you know your opponent doesn't have many ground cards. Against pekka decks try to battle on your side of the arena, use your zappies or goblins to help support the mega knight and protect him from the pekka.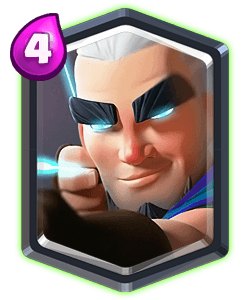 Magic archer has a very high win rate, he is great for been used aggressively at the bridge to help get some extra chip damage especially if you use him to support your royal hogs. He is also a spell bait card so keep him away from other units and your towers to avoid giving your opponent any form of spell value. His long range means he can be played opposite lane on defence. This guys placement is absolutely key if you want to maximise your success with this deck, think about geometry and try to protect him from the opponents troops as much as possible.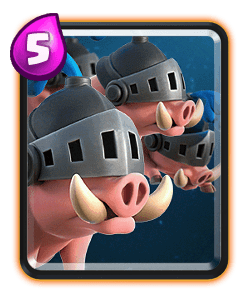 Royal hogs are your main win condition, use them to pressure the opponent when they're low on elixir or you know they don't have a good counter in cycle. If your opponent has a huge push coming your way you can use this guys to force them to play elixir defensively. If they have a few counters to these guys then you may need to apply dual lane pressure.
At the start of the match wait 10-15 seconds to see if your opponent makes the first move, if they don't you can use bandit, goblins, bats or cycle snowball.
Double elixir can be a perfect opportunity to split lane push, remember to bait out their key defensive counters before you go aggressive.