Hey everyone, today I'm back sharing this crazy meta deck that has a 57% win rate and is also extremely easy to play, you have two win conditions inside this deck, that means you can easily apply constant pressure throughout the match while also having some of the best defensive units in the game which are Valkyrie, prince, skarmy and bats. If the opponent has zap then you have three zap bait cards in the deck, prince, skarmy and bats. If they have log you can use skarmy, goblin barrel or prince to bait out their log. Once their small spell is baited out you can use your other units to punish the opponent. Against graveyard try to stop their tank at the bridge then you can use bats or skarmy to defend. If you're up against bait then I like to apply dual lane pressure and use as many splash units as possible throughout the match. Use the balloon on offence to bait out their rockets and make a plus one positive elixir trade.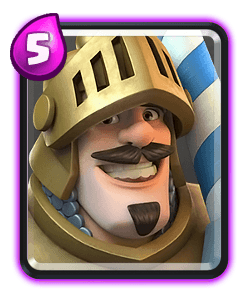 Prince is a great unit to play in the back to help set up a successful defence, he is great at helping defend against tanks and also units like hog rider, ram rider, battle ram etc. On offence you should support him as much as possible, especially in double elixir, to increase the chances of him reaching the princess tower.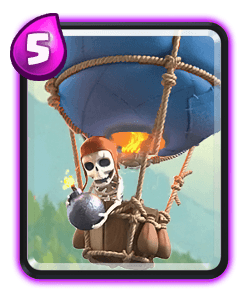 Balloon is one of your main win conditions inside this deck, even if it doesn't get a direct hit to the opponents tower it will often get death damage which can also splash their defensive units. Use this card when they've played an air units or when they're low on elixir.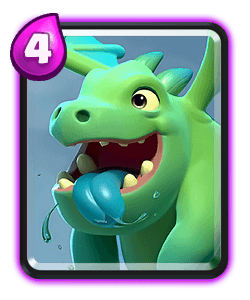 Baby dragon has been a meta card for a long time and even after a Nerf it's still such a strong card. It's a great tank to can use for your balloon or goblin barrel. If you're against a heavy air deck you will rely on this guy and the bats fairly heavily, so try to protect him or apply opposite pressure so the opponent can't use their spells against them.
Early game you can start out with a balloon, goblin barrel or bats, aim to apply small chip damage and force your opponent to spend elixir defending while always saving enough elixir yourself to defend their counter push. My favourite starting play is definitely the barrel or the balloon because you can see what defensive units the opponent is playing early on then you can assess how you're going to win the match.
In double elixir you can begin apply dual lane pressure against very defensive decks. This works well after a successful defensive sequence then you can use you win conditions to apply pressure in both lanes. The prince is a great unit to use but I recommend having your zap spell ready to protect him from swarm units. Please support me by checking out the video!