Today we have End on the channel who is currently #2 in the world using this deck! Three musketeers are the strongest they've been for a long time, the main aim of this deck is to bait out counters like Valkyrie, fireball, mega knight and then punish the opponent. Heal spirit can be used to help support the royal hogs or musketeers if you're up against fireball or other splash cards. One thing I love about this deck is its ability to split lane push, one thing I noticed from watching the replays is that the threat of three musketeers can be enough, some matches end won't even use the musketeers. The hogs, ghost and bandit all provide you with a bridge spam element to this deck, this allows you to pressure opposite lane and prevent your opponent been able to fully support a tank they just played behind their king tower or stop them been able to play a spell to support their graveyard depending on what deck they're playing.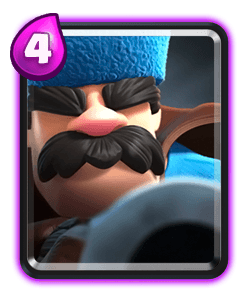 Hunters main role in this deck is to be a tank killer or prevent certain units connecting to your tower like the hog rider, battle ram, balloon etc. His splash radius also allows him to be a good counter to swarm cards including minions, goblins and skeletons. Protect him from the opponents support cards, you can use ice golem as a glass tank to buy the hunter a few more seconds to shut down their push.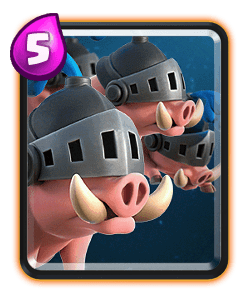 These four pigs are your main win condition inside this deck and should be used throughout the match when your opponent is low on elixir or doesn't have a good counter in cycle. They can also be used to pressure opposite lane, heal spirit, ice golem or barbarian barrel can be good support cards to use depending on what units your opponent has in cycle.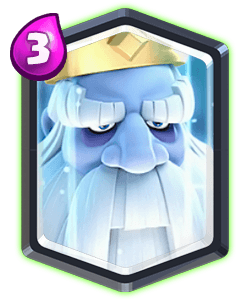 Ghost is your splash unit in this deck and is a great counter to swarm cards. His unique ability means he's a strong bridge spam unit. You can kite support cards this the ice golem and then leave this guy to deal with tanks.
For opening plays I recommend waiting 10-15 seconds for the opponent to make the first play, if they don't you can start out with heal spirit, bandit, ghost or barb barrel. Early game you should try to bait out counters to your hogs, never play your three musketeers in single elixir unless you have a big elixir advantage.
Once you're in double elixir you can begin ramping up dual lane pressure and trying to break through their defence if you haven't already. Try to bait out their key counters and either punish opposite lane or cycle back quicker than your opponent. Good luck with this deck everyone!