Today we have Kix on the channel sharing this OP balloon cycle deck which is great fun to play. The only real bad matchup is a three musketeer and hunter deck however it is possible to overcome this match if you can punish your opponent early on in the game like Kix does in the first battle of the video. The fisherman helps make this deck strong on defence because you can use it to pull units like golem, giant, hog, ram rider etc away from your princess towers and you can even use him to activate your king tower. Use the lumberjack on defence and then counter push with him, the balloon is best paired with the lumberjacks rage spell. The snowball is a great support card for the balloon because it's slow ability and sometimes allow your balloon to get an extra hit. The snowball also has a knock back ability which can be useful on defence against hog rider, balloon, minions, goblin barrel etc.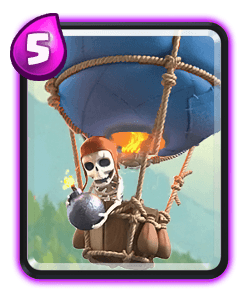 Balloon is your main win condition and although you'll be looking to get that tower connection you can also deal a ton of damage throughout the match by just getting death damage. Applying offence with this card can be a good defensive strategy, this works well against bait, golem and beat down decks.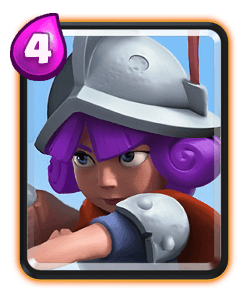 Musketeer is an important card inside this deck because you can get so much value from her, try to protect her and keep her alive as long as possible. This will make it harder for your opponent and potentially force a spell out of their hand. She is also your main defensive option against air decks so cycle to her as much as possible against lava hound or other balloon cycle decks.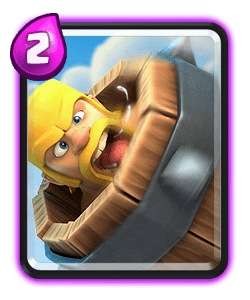 Barb barrel is one of two spells in this deck and will be your main counter to goblin barrel, skeleton barrel and other swarm units. This card can also be used as a mini tank for the balloon or musketeer on offence.
Early game you can start out with you skeleton dragons or cycling one of your cheaper cards. Try to punish the opponent opposite lane if they play two air units at the same time. Pressuring with the balloon will also allow you to see how the opponent responds and what defensive troops they have. Heal spirit and snowball are both great support cards and they also allow you to quickly cycle through this deck.
In double elixir keep trying to control the tempo of the match, remember the best defence is a good offence when using this deck. You can also apply dual lane pressure if you're struggling to break through their defensive units. Try to get as much value from your spells and also the musketeer as possible, this will make it easier to play and support the balloon better. Good luck with this deck everyone!