Today we have the chikaporon on the channel who is the pro that teaches other pro's how to play bridge spam decks! Bridge spam decks are all about making positive elixir trades on defence and been able to punish your opponent on the counter push. You can also use the bandit or battle ram apply opposite lane pressure, this will allow you to play defence through offence and prevent the opponent building a mammoth push down one lane. For air defence you have the skeleton dragons and the electro wizard, try not to give your opponent good spell value by placing them too close together. If you're up against heavy air decks try to always have one of these units in cycle. Use the electro wizards enter the arena ability to help defend against sparky, inferno dragon, battle ram and swarm cards like skarmy or goblin gang. Against graveyard you should keep switching lanes and applying opposite lane pressure because the opponent will rely on the counter push. You have the dark prince, e-wiz and poison to counter the graveyard if you can stop their tank at the bridge. Against quicker cycle decks like 2.6 hog you should defend throughout single elixir and then use this deck as a beat down archetype in double elixir.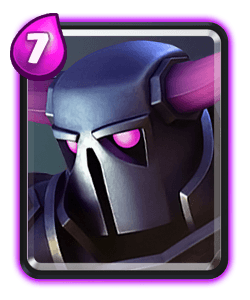 Pekka is your main tank killer against beatdown decks, she's also great against mega knight. Try to always defend on your side of the arena, this will stop the opponent been able to counter her with swarm cards and will also provide you with a better counter push opportunity. You can use her as a tank and have your spells ready to support her on offence.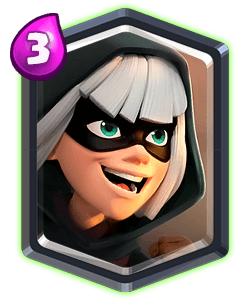 Bandit is an extremely versatile card that can not only be used to apply pressure on offence and but you can also get a lot of defensive value from her too. Her dash ability allows her to tank a hit from a prince or a mega knight jump. She can also dash over the river, this can be useful against buildings.
Bandit in the back or cycling zap on the princess tower are the best starting plays when using this deck, Your main aim in single elixir is to defend and counter push, make sure you apply opposite lane pressure if the opponent plays a heavy tank like golem or lava hound. Remember to learn what deck the opponent is playing, don't be too aggressive with your spells in single elixir.
Once you hit double elixir you will know what deck the opponent is playing and what units they have in cycle. You can also start supporting your pushes more and even using your spells to support your troops. You can also apply dual lane pressure if the opponent over commit on defence in one lane. I would like to thank everyone who uses creator code 'CWA' in all supercell shops!